Guidelines, Rights and Privileges

Committee Configuration

Athletic Director – Chair
Principal or another administrator
Head Coach of a Male Sport
Head Coach of a Female Sport
Tiger Booster Club President or appointed member
Two Community members at Large
After the first year a member of the Hall of Fame

Committee Appointment

The Athletic Director and High School Principal shall appoint members to the Athletic Hall of Fame committee. The members will serve three year terms and may be reappointed at the discretion of the Chair. Failure to meet with the committee on two consecutive meetings may result in removal from the committee and a new member will be appointed.

General Function

The general function of the committee is to govern and administer this organization within the guidelines set forth in the by-laws.
The Athletic Hall of Fame Committee shall establish policies and procedures necessary for the proper functioning of the Marshfield School District Hall of Fame when adequate policy and procedures do not already exist within these by-laws.
The Athletic Hall of Fame Committee will be members of the Selection Committee. The Selection Committee will consist of a total of nine members. Selection committee members must be present at the selection meeting to discuss and vote on potential Athletic Hall of Fame nominees. Nominees must receive six votes to be included in the Hall of Fame.

Induction Qualifications

The person must be a graduate of Marshfield High School.
Any person who has earned at least one varsity letter while attending Marshfield High School.
Moral character, good citizenship, and academic performance during high school and post high school years shall be a consideration.
Nominees into the Marshfield Hall of Fame shall have graduated 10 or more years ago.
Although athletic achievement while attending Marshfield High School is of prime importance, outstanding accomplishments after leaving Marshfield High School will also be a factor in making the selection.
Three years must elapse after completion of their tenure as a coach in the Marshfield School District before consideration is given for selection. They must be 55 years old or older.
They are examples of good character and citizenship.
No member of the committee will be eligible for induction while serving on the selection committee
Factors that will influence selection of a coach:

Will have coached at least 10 years in the Marshfield School District
Record while coaching in the Marshfield School District

Contributions to their respective sport and the Marshfield athletic program

Who have made an outstanding contribution to Marshfield Athletic Programs
Who have made an impact on the athletic program for the Marshfield School District.

Nomination

Anyone may submit a completed nomination form to the athletic director for consideration. All nominations will remain on file for 5 years from the last nomination and after that time must be re-nominated.
All nominations must be on file by May 31. The people that are nominating individuals shall inform those individuals of their nomination and shall be responsible for gathering information on their past achievements. They will be responsible to meet the deadlines set up by the committee.
The Athletic Hall of Fame will have a maximum of ten inductees the first year. All the rest of the years there will be a maximum of 5 inductees.

Once a person has been inducted:

That membership is for life.
Shall be introduced at a home athletic event.
Two uniform plaques shall be awarded to honor each inductee. One plaque shall be presented to the inductee; the other plaque shall be placed on display in the Marshfield Hall of Fame.
A lifetime gold pass to all Marshfield home athletic events, except WIAA tournament events

Timeline

Distribute Nomination Forms & Questionnaires Year round
Collection of Information on nominees Year round
Deadline for Nominations May 1
HOF Selection Committee Meets May/June
Select and Inform HOF Recipients July
Complete information for plaque and media July
Order plaques and awards July
Announce award winners to the media August
Awards Presentation Home Athletic Event

Donors and Contributions

The Hall of Fame Committee will set up an account with the Marshfield Tiger Booster Club for Hall of Fame donors and contributors.

By-Law Revisions

Amendments to the Marshfield School District Athletic Hall of Fame shall be voted upon by the Athletic Hall of Fame committee members at the selected meeting. Amendments receiving two-thirds majority votes from the eligible Athletic Hall of Fame committee members shall be adopted.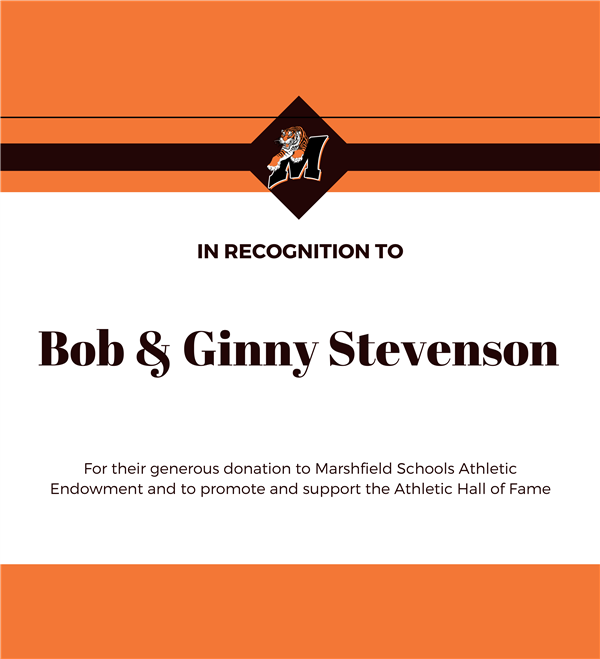 Tiger Hall of Fame Mission Statement
The Hall of Fame awards will recognize and honor outstanding achievements of individuals, coaches and contributors to the athletic program who have promoted the growth of athletics in the Marshfield School District. The other intent of this award is to display to students and the public the athletic accomplishments of people who have been instrumental in creating an excellent athletic tradition at Marshfield High School.
Hall of Fame Inductees (alpha list)

| | |
| --- | --- |
| Inductee | Induction Year |
| 1991 Tiger Softball Team | 2014 |
| 1993 Golf Team | 2020 |
| 1994 Girls Tennis Team | 2021 |
| 1995 Girls Tennis Team | 2021 |
| 1997 Tiger Football Team | 2015 |
| 1997 Tiger Softball Team | 2014 |
| 2001 Tiger Football Team | 2013 |
| 2002 Tiger Football Team | 2013 |
| Ably (Geldernick), Kathy | 2012 |
| Aslakason, Charlie | 2006 |
| Bloedel, Suzi | 2014 |
| Boson, Jerry | 2012 |
| Buss, Dave | 2008 |
| Buss, Terry | 2006 |
| Buttke (Ott), Elizabeth | 2017 |
| Carlson (Winer), Danielle | 2019 |
| Craig, Sara | 2018 |
| Delisio, Gene | 2010 |
| Dix, Eugene | 2006 |
| Dolezal, Brad | 2021 |
| Egger, Ray | 2009 |
| Fandry, Ed | 2011 |
| Finlay, Ethan | 2019 |
| Fish (Linden), Leigh | 2015 |
| Flemming, Neil | 2009 |
| Geldernick (Gilhausen), Dawn | 2010 |
| Geldernick, Corey | 2017 |
| Gessert (Hart), Mary | 2017 |
| Gorman, Matt | 2015 |
| Hamlin, Wayne | 2020 |
| Hardacre, Jeff | 2013 |
| Heckel, Tammy | 2006 |
| Hilderbrandt, Johnalee | 2013 |
| Imhoff, Joseph | 2010 |
| Jansen (Huberty), Julia | 2008 |
| Johnson, Irv | 2018 |
| Kaiser, Amanda | 2015 |
| King, Ben | 2015 |
| Koehler, Garry | 2007 |
| Kopplin, Peter | 2006 |
| Kraemer, William | 2009 |
| Lewis Sr., Russel | 2011 |
| Luedtke, Len | 2014 |
| Martin (Krueger), Jamie | 2017 |
| Mc Clary (Johnson), Carlin | 2006 |
| Michalski, Kevin (Tiny) | 2019 |
| Myers (Schneider), Tammy | 2007 |
| Needham, Ross | 2012 |
| Ohsnesorge-Grawien, Kathy | 2011 |
| Ousley, Mary | 2011 |
| Ross (Gust), Tricia | 2009 |
| Scheuer, Robert | 2020 |
| Schlicht, John | 2019 |
| Schuelke, Karl | 2008 |
| Seidl, Arnold | 2006 |
| Shupe, Kim | 2009 |
| Smith, Pat | 2014 |
| Sommers, Paul | 2007 |
| Southworth, Tommy | 2006 |
| Stenavich, Adam | 2013 |
| Stevenson, Robert | 2010 |
| Stroik, Adam | 2021 |
| Tomlinson (Richard), Janelle | 2010 |
| Varsho, Gary | 2008 |
| Wagner, Jeff | 2007 |
| Wagner, Wayne | 2015 |
| Watt, Stephanie | 2016 |
| Weigel, Lee | 2016 |
| Weiler, Wayne | 2007 |
| Witt, Gerald | 2006 |